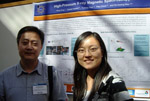 EFree Director
Ho-kwang Mao
delivered the plenary talk, "High-pressure science and technology of the 21st century," at the International Center for Materials Research (ICMR) conference on Pressure Effects on Materials held at UC Santa Barbara on August 22-28, 2010.
Three Carnegie scientists and EFree partners also gave invited talks:
Russell Hemley: "New findings in simple molecular systems under pressure"
Reinhard Boehler: "Melting of iron and the transition metals:Implications for the Earth's core"
Viktor Struzhkin "High pressure studies of metals and insulators".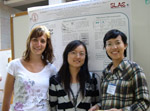 HPSynC scientist
Yang Ding
(HPSynC) presented a poster. Three graduate students from EFree Partner
Wendy Mao
's group at Stanford,
Yu Lin
,
Shibing Wang
, and
Maria Baldini
also presented posters.   In addition, EFree Advisory Committee Member
Giulia Galli
(University of California, Davis) was also an invited speaker.
[Photos (top):Yang Ding and Yu Lin; (bottom) Maria Baldini, Yu Lin and Shibing Wang]